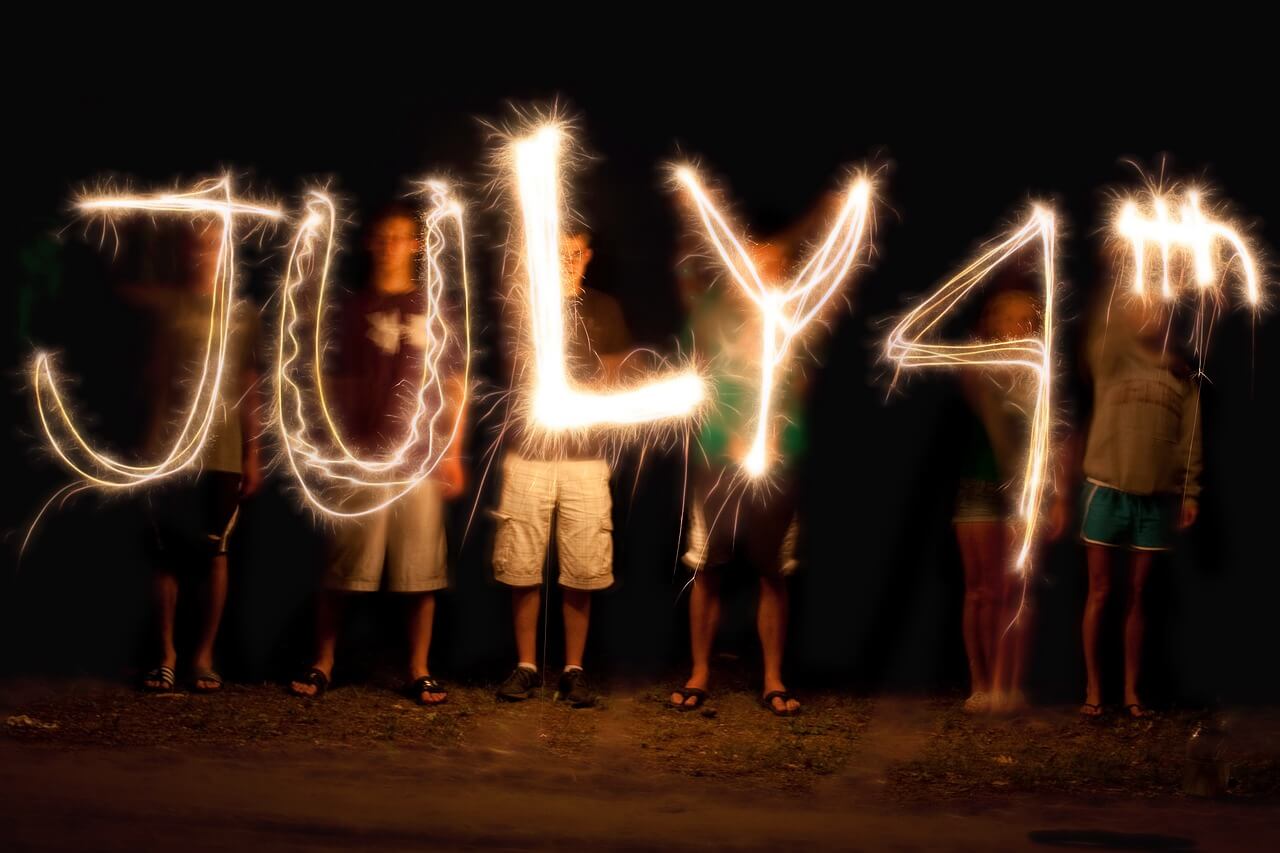 Each year people across the nation honor America's independence by celebrating with picnics and parties. If you're hosting a party this Independence Day, follow these tips to create the perfect atmosphere for your outdoor gathering.
Festive table décor. Colorful linens are essential to transforming outdoor parties. Decorate your table by using red, white and blue bandanas for napkins or place mats. Food and drink can also accent your decor. Add a splash of color to your table by adding blueberries to a bowl of watermelon. Sparkling apple cider with raspberries and blackberries is pretty and refreshing on a hot summer day.
Snack Attack. Salty, crunchy nibbles are popular during outdoor gatherings. Avoid the mess by serving spicy popcorn and potato chips in snow cone holders. Pretzel sticks in small cups are perfect for tiny hands.
Sparkling Favors. Give each child a bottle of bubbles to add cheer to the atmosphere. Wrap a handful of sparklers with red, white and blue ribbon for guests to light at sunset. Invite the guests to gather around the fire pit to make s'mores. Put skewers in a galvanized bucket and place individual bags with s'mores supplies – graham crackers, chocolate squares, and marshmallows – nearby.
Backyard games.   Set up game stations around the yard and encourage guests to visit each to location. Corn hole toss, horseshoes, croquet, and ring toss games will keep guests busy while throughout the evening.
Tasty Meal. Last, but not least, wow your guests with a delicious Independence Day meal of grass-feed hamburgers and nitrate-free hot dogs. Store condiments in marked bowls or mason jars with a spoon for easy access. Round out your menu with corn on the cob, a variety of pasta salads and grilled vegetables. If you're a first timer, keep this recipe handy to perfectly cook your veggies.
Grilled Vegetables
1 cup fat-free Italian dressing
1 small eggplant, sliced lengthwise into ½-inch slices
2 medium zucchini, sliced lengthwise into ½-inch slices
2 medium summer squash, sliced lengthwise into ½-inch slices
2 red peppers, cored, seeded, and sliced into ½-inch rings
2 green peppers, cored, seeded, and sliced into ½-inch rings
2 yellow peppers, cored, seeded, and sliced into ½-inch rings
½ head fennel , leaves removed, cut into 4-inch pieces
1 tablespoon garlic salt Toss vegetables with Italian dressing to coat, keeping each type of vegetable separate. Heat grill to medium-high heat.
Skewer vegetables (or cook in grilling basket to prevent small items from falling onto coals or heating element). Grill until tender and lightly browned: 1 to 2 minutes per side for peppers, 2 to 3 minutes per side for eggplant and squashes, and 3 to 4 minutes per side for fennel. Sprinkle with garlic salt while cooking.
Remove from grill and place on a large platter, separating each type of vegetable.
Serves 8. Approximate per serving: 80 calories, 0 grams of fat
Recipe courtesy of the American Cancer Society