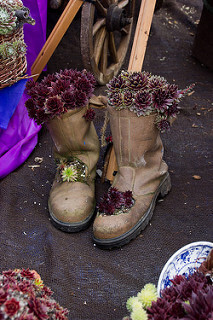 Upcycling, the reuse of discarded material as to create a product of higher quality than the original, is a trendy new way to decorate your Atlanta organic lawn or garden. Turning old dressers into beautiful tiered gardens or worn shoes into quirky plant pots is a creative and fun way to add variety and interest to an otherwise plain garden. With practically anything being able to be repurposed this way, the only limiting factor is your own imagination. Here are some tips on finding and creating your new decorations.
Finding the Materials
Look around your home for unused objects. Check the attic, storage, the shed, your basement, or any place where you might have stuck extra items that you didn't want at the time. The only limit here is what you want to keep. An old lamp? Take the shade off and fill it with dirt! Aunt Jenny's tacky jewelry box? Better keep that in case she asks about it next Thanksgiving.
Going to thrift stores like Goodwill or the Salvation Army is a great way to get used furniture for extremely cheap. This can be the most fun part of the process, looking though battered nightstands or even broken speakers can lead to some fun ideas.
Lastly, checking places like Craigslist for free furniture can land you some surprisingly good stuff. With some luck and the will to put up with a long drive, you can get a upcycleable for the low, low price of zero dollars.
Building your Upcycleables
While technically you can just insert a plant into an old wooden box and call it a day, taking the easy way out not only defeats the purpose of the project, but takes any potential fun out of the equation. Be creative with your upcycling! Paint a night sky on a chair, or add some bright colors to a boring bucket.
Not everything has to be flowers. Covering a bookcase with vines or planting ferns in an old tire add plant variety and color to your garden.
Think about how you can design your new decoration for function as well as form. Turning an old oil drum into a rain barrel or a nightstand into a compost bin allows your upcycleables to be practical as well as fun!
Synergize your new creations with your organic lawn, finding a use for plastics that would otherwise end up in a landfill is a great way to promote environmentally friendly gardening!
photo credit: Rigger boots via photopin (license)