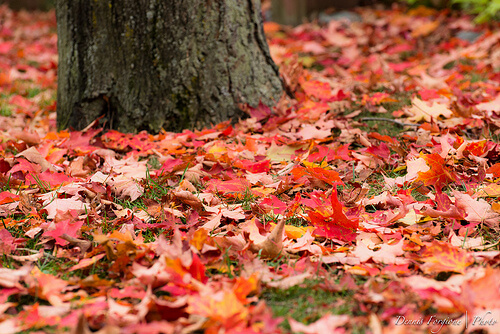 With the fall season beginning tomorrow, it's time to think about steps you can take to care for your landscape throughout the colder weather. While cooler weather may offer a reprieve from mowing, you can't neglect your yard and landscape completely. You want them to remain healthy even in dormancy so they'll thrive again once spring arrives. There are several proactive measures you can take in the fall to help in that effort.
For Your Lawn—
Watering: Though warm-season grasses won't require much watering once they enter dormancy in the wintertime, cool-season grasses, such as Fescue, will continue to require an inch of water weekly during the growing season. Remember to reference our smart watering tips to help reduce waste. A thoughtful reminder about winter precipitation is that if it snows or ice melts, that can serve as the much needed moisture for your grass and count towards your one inch a week.
Mowing: Warm-season grass growth is beginning to slow down. As your mowing frequency declines, be sure to raise the height of your mower blade. Increasing the blade height provides your grass more room to store up nutrients for sustenance when it returns from dormancy in the spring.
Raking: Though beautifully colored leaves may be pretty to look at, it's important not to let them collect on your lawn. Raking leaves and other debris isn't done just for aesthetic purposes. It's actually necessary to protect your grass. Fallen leaves will smother your turf, making it difficult for the roots to absorb necessary nutrients, fertilizers and water. Moreover, allowing leaves to buildup will inhibit the absorption of sunlight and reduce air circulation. Leaves can also retain moisture on your grass, resulting in fungal diseases. It's critical that you keep up with leaf removal throughout the fall to prevent these damaging consequences. Don't forget, leaves make a great addition to your compost.
For Your Landscape—
Mulching: Shredding your raked leaves with a mower or shredder creates a very effective mulch for your flowerbeds. As they decompose, they'll offer natural fertilizers and weed control to the soil. Freshening up any form of mulch in the fall is also a smart idea. Mulch protects your plants' roots, forming a barrier to help the soil maintain a consistent temperature. It also increases the soil's ability to retain moisture while offering valuable nutrients to increase soil health.
Fall Fertilization: As the cold rolls in, trees and shrubs may not look very lively above the soil, but their roots still continue to grow until the ground freezes. Plant root systems need protection throughout the fall and winter. Not only does fall fertilization help protect roots, it also helps strengthen them. This makes them more resistant to pests and diseases. Simply Organic offers fall fertilization for ornamental trees and shrubs in the fall months. Contact us if you have questions regarding this service or want to know what this can do for your lawn and landscape.
Enjoy those fall colors, cooler temperatures and the welcome break from weekly mowing. Just remember– don't neglect your landscape altogether. Your actions now can have major implications about how your landscape will look in the springtime.