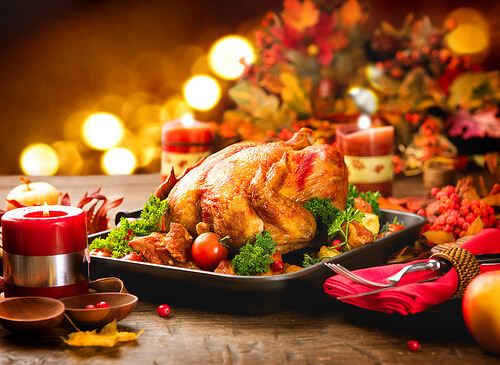 Thanksgiving is the time to bond with family, watch football and enjoy an authentic holiday feast. But preparation of a large organic feast can seem daunting.  A little pre-planning can make all the difference! Here are some ways to go organic for your Thanksgiving holiday:
Serve an organic or free-range turkey. Thanksgiving dinner is all about the turkey. Organic turkeys are fed an all-natural diet and are free of antibiotics. Free-range birds are allowed to roam freely outdoors. Research has shown free-range and organic turkeys are more nutritious than regular turkeys. These birds are available at local farmers markets and grocery stores.  Base the size of your turkey on the number of guests for dinner allotting 1.3 pounds per person. Properly thawing a frozen turkey requires 24 hours in the refrigerator for every five pounds.
Patronize local sources for your ingredients.  Farmers markets typically offer fresher selections than traditional grocery stores. You can also find grocery stores that purchase from local farmers.  Buying locally saves energy, supports local farmers, and helps preserve green space. Find farms in your area by using the Local Harvest Website (http://www.localharvest.org/).
Plan your meal around local, seasonal produce. Eating seasonally means choosing food grown at the time you buy and eat it.  Choosing food in-season means produce is fresher, tastes better and is perfectly ripe. In-season produce is also cheaper, has a higher nutritional content and has not been exposed to possible contaminants from shipping. While it's not always feasible to eat locally and seasonally, Thanksgiving provides the perfect opportunity to indulge in nature's bounty.
Skip disposable dishes. Choose the eco-friendly option of using plates and utensils you can wash and reuse. One-time use plastic adds trash to landfills.   If facing a kitchen full of dishes seems overwhelming, opt for disposable tableware made from biodegradable or recycled materials Compostable options made from palm leaves, tapioca, bamboo, sugarcane, and corn can be ordered online.
Give thanks.  Finally, take a moment to give thanks for friends, family, and the chance to spend another Thanksgiving together. We have so much to be thankful for, especially the abundance of food and the opportunity to offer our families a healthy organic meal.
photo credit: LuminaryPhotoProject Thanksgiving dinner table served with turkey, decorated with bright autumn leaves via photopin (license)